Microsoft Cloud Solution Provider (Microsoft CSP)
Easy on-premises or cloud Microsoft licensing
Microsoft licensing could be difficult. Welcome to the Next Generation Volume Licensing. We've made it easy for you using Microsoft CSP program. If you are located in the European Union (EU) or United States of America (USA) you can gain your licensing benefits right now:
Licensing advisory - what is right for your business
Customizable Monthy / annual billing and invoicing
Immediate license amount change (increase/decrease/license switch)
No commitment required
Annual price fixation
Easy transition from any existing agreement / provider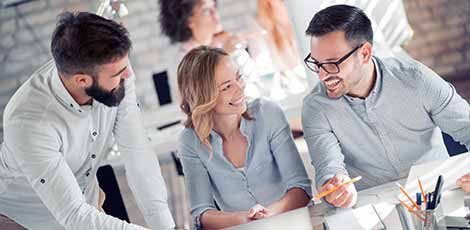 What you might get within the Microsoft CSP
On-Premises:

Windows Server including CAL
SQL Server including CAL
Remote Desktop Services (RDS) CAL
Microsoft Visual Studio
Microsoft Office ProPlus
Microsoft Visio, Microsoft Project

Cloud online licences:

Microsoft Azure
Microsoft 365 a Office 365
Enterprise Mobility & Security (EMS)
Windows 10 Enterprise
Microsoft Dynamics 365
Your benefits from KPCS
We are not just as another provider - we know how the users are using the products, how the services are used within your business. Our team of speacilists is ready to help your organization, your users start using new services. Proven record of more than 180 000 users served by KPCS.
We are connected to the Microsoft directly
CSP Authorization within EU and USA
Direct access to the Microsoft premier support, with 24/7 option
Self service portal for the license management
Continuos training of your users
All tenants (your online environment) is secured by default and GDPR compliant by default
Real time license provisioning
Do you have your own customers? Transact with us
And finally no credit card required
Some of our CSP customers



Frequently asked questions about your new Microsoft CSP
Contact us, we will prepare pricing which fits your company needs.
A tenant is a representation of an organization. It's a dedicated instance of Azure AD that an organization receives when the organization creates a relationship with Microsoft - like signing up for Azure, Microsoft Intune, or Microsoft 365.
Contact us! It is really important to prepare new tenant for your organization correctly. There is a few things which can't be changed later. Our support staff will guide you through the process - it's easy.
Yes, before ordering licenses from us you have to agree with Microsoft Customer Agreement. You can find up to date revisions here. Or aks us for an assistance.
There is two kind of licenses:
Pay-per license: usually per user. This includes all products like Office 365, Microsoft 365 etc.
Consumption based: this type of payment represents Azure resource consumption.
Office 365 brings all tools for creativity and collaboration between people. Main services are: Office ProPlus, Exchange Online, SharePoint Online, OneDrive for Business, Teams, Yammer. But wait, there is more. Booking, Stream, Forms, MyAnalytics, PowerApps, Flow, StaffHub, Delve, Groups, Video, Kaizala, PowerBI, To-Do. And of course bunch of services to protect your data.
Every tenant provided by us, within the CSP is secured by default. No need to worry about the insecure configurations anymore.
Didn't find the right license for you?
Or do you want more favorable conditions for your organization?
It may not be easy to navigate the complex world of Microsoft licensing. Contact us, we will prepare a solution tailored to your organization.