Do you want to belong to the IT world of KPCS? We work mainly with Microsoft technologies, but you will find other gadgets with us. We are constantly working on and developing ourselves, both in the form of education and through the sharing of knowledge and ideas. We are proud of what we do for our customers, we are proud of our brand.
We know that without our people we would never reach the achievements we have. The number of our MVP specialists makes it clear that we belong to a community of world experts.
Our people say that the relationships in our company are like family. We support each other, but we can also have fun. We also devote our time to leisure time activities and often create friendships that last a lifetime.
And these are some of us.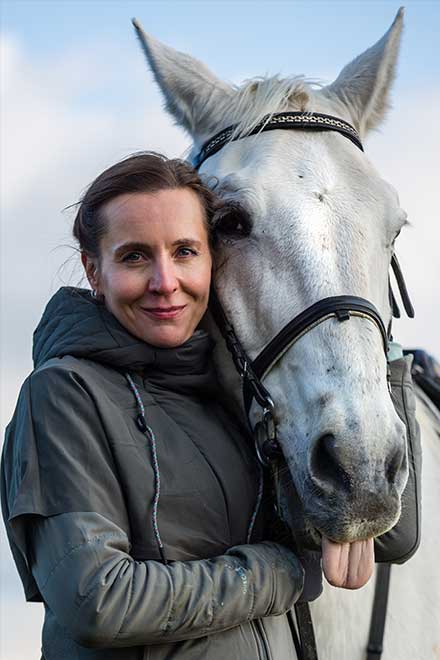 Olga Anna Berkovska
Senior Consultant | Shooter and Horse woman
I joined KPCS when I ended up with a competitor contract and saw a KPCS ad at a recruitment agency, which I happened to know earlier - in one implementation I met Mirek, the current CEO with whom we were enthusiastically discussing Exchange at the time.
Today I work as a Senior Consultant in the Delivery department, delivering work at the customer - from analysis and design, through implementation to documentation. From my point of view, it is about how to correctly define what the customer needs (ie not what he / she wants, it is often two different things) and to find the most optimal solution not only for the final state, but also for the work progress.
My specialization is migration from incompatible platforms such as Novell, Icewarp, etc. But I do more common migration between Microsoft Exchange technologies, such as on-premises to cloud, tenant to tenant or from older versions of Exchange to new ones. I am fascinated that no project is the same and it is never a routine. At KPCS, I especially like the precision of work, educated colleagues, the prestige of the company, the high level of customer care (I have seen a lot in 15 years and nothing was nearly as professional as here). In addition, the company really cares for me nicely - wondering how I am, if I do not need something and basically accommodates me in everything.
I also have a lot of hobbies that I can develop more as my children grow. Primarily they are horses, I learn dressage on film horses. I ride four times a week, although I do not have my own horse, but I help in the stables, as time permits. I also train self-defense called Wing Chun, but I have been doing this for a short time. And I also own a gun license, I have an old Mosin-Nagant rifle, and I go ride with her, my friends and their rifles / pistols, to fool. And not to forget, my evenings belong to (online) gaming. I enjoyed computers from scratch, but tuning and programming have been blown away and only work and games have been left.
Petr Vlk
Enterprise Solution Architect | Computer freak forever
I got to KPCS basically by working on Windows User Group events during my studies in Písek. Mirek Knotek and Martin Pavlis (owners of KPCS) gave excellent lectures here, which was a great inspiration for me. It was the local organizer at that time who was working at KPCS, who later recommended me as a technical support for Exchange4U users, then a unique form of mailbox hosting that existed long before Office 365.
Today, as an Enterprise Architect, I help customers in the cloud business under the Microsoft 365. From designing, deploying or migrating, configuring, running and adopting to end users, and last but not least, ensuring their security. Today, I speak about the latest Microsoft technologies on the Windows User Group (and not only there), and I received the Microsoft MVP title for sharing my knowledge. This actually closed the story.
Working at KPCS is definitely unique, just like the whole company and its employees. Of course, one can praise the opportunity to work with the latest and best technologies, interesting benefits and work flexibility. But I personally appreciate the opportunities to develop and the desire of all around to be the best partners and help them with their digital transformation. Whether it is a smaller customer or a large international company. It is a wide range of customers that helps to maintain not only expert knowledge of their own technology, but also an interesting and beneficial overlap. The fact that even former colleagues today often meet with a Microsoft business card on his shirt shows that we have only the best at KPCS. I certainly also appreciate the very friendly atmosphere, where despite the necessary existence of processes always finds time to help.
For me, the difference between free time and work is a bit blurred, because my hobby has always been and still is - computers. But I can really enjoy little doing nothing in the environment of South Bohemian forests on a walk with a dog or bike ride. Sometimes, however, I come back to older hobbies such as LEGO kits, building paper models or book stories not only from the planet Dune or the world of Star Wars.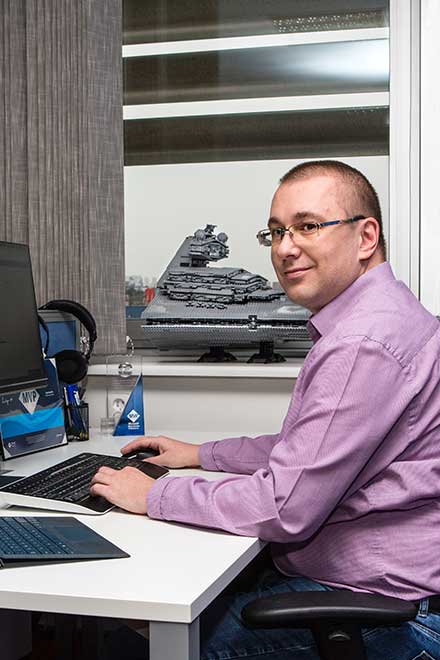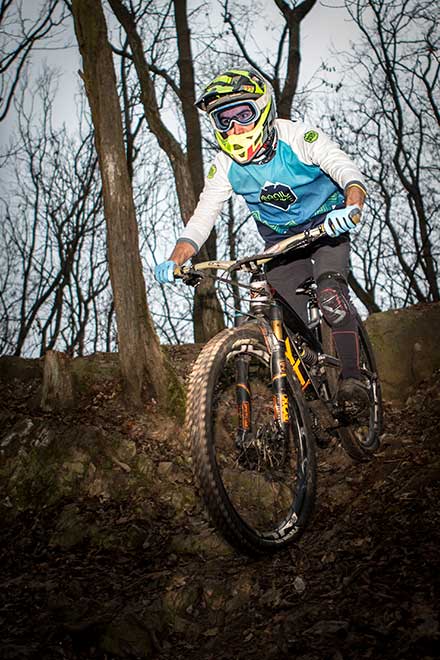 Jiri Becka
Customer support | Downhill biker
I recognized KPCS when I was in another company and had the opportunity to cooperate with it in one implementation as a customer. I have seen what the company can do, how it works and how it works with it. Subsequently, I was looking for a new job challenge, and so when I was approached by Petr from KPCS, with whom I worked most closely during implementation, I did not hesitate to apply for the selection procedure. I now work as a Junior Consultant in Service Operations.
As the name suggests, I often communicate with customers, which I sometimes take as a challenge. I get to solve technical problems that move me further and further. At KPCS, I especially like the friendly atmosphere and support of colleagues, basically the same as those in family businesses.
Apart from work, I devote my time especially to my big hobby, which has been mountain biking for more than 7 years, especially downhill of the most demanding tracks. Bicycles have always been my passion and mountain bikes have been a challenge that has completely absorbed me. I train four to six times a week on a bike, but I also need to do additional training in the form of a gym, swimming and yoga. I also participate in many races. If I should mention one that is really adrenaline, then it would be a French downhill race with a mass start Megavalanche, when the track is 20 km long and runs down from a height of 3500 m. up to 800 m.n.m. My dream is to race in New Zealand Dodzy enduro, mainly because of the beautiful nature and the difficulty of the local tracks. I also run riding courses for cyclists who want to learn or improve on mountain bikes.
Jan Pribyl
Project Manager | Rugby player and coach
I came to KPCS as a lot of people working here, on recommendation. I worked at a bank and I knew the company a bit out of earshot over my neighbor. When I opened the position of project manager, I did not hesitate for a long time. Personally, I am very satisfied with the size of the company. Unlike a corporation, there are many important things for me, much easier. People working together know each other well, they know about their strengths as well as their weaknesses, so it is much easier to coordinate projects.
The work of a project manager is diverse in KPCS, so he just can't go gray. I work on a number of projects, for different customers, with different consultants, still learning new things and moving forward. At KPCS, it is fascinating to work with people who are real leaders in their fields, and I must say that I have never experienced such a concentration of these people in one company before.
In my free time I devote my time to rugby. With little exaggeration, my hobby can also be transferred to my work. Rugby is a tough contact sport, but one must also be a team player and discipline, as any technical mistake is severely punished. I've been a rugby kids' coach for 6 years. Even though rugby is not fully booked on roses, it is said that in New Zealand, which is the world's great power in rugby, there are four times more referees than our registered players, I see it makes sense. Rugby is not only a team and versatile sport, but a great grounding in life. Sense of fair play, clear rules, recognition of authorities (rugby referee is a true authority), but at the same time it is a game with the need to think, tact, cooperate. Two of my kids play rugby, I go play once a week and of course I have additional sports. Otherwise, the whole family is riding on modeling.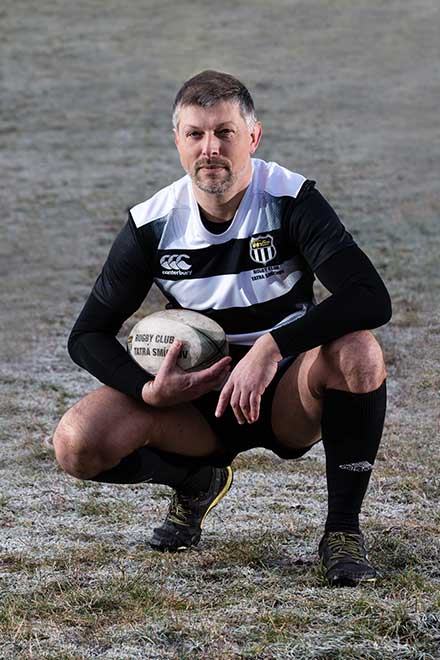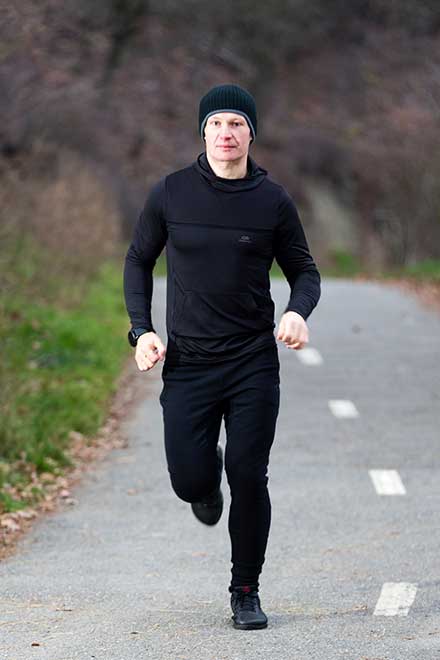 Michal Broz
Senior Account Manager | Crossfitter and gamekeeper
I learned about KPCS from my best friend, who was so excited about working at this company that he had convinced me to make an interview the next day, and eventually joined the company and stayed until today.
I have been working for five years as a Key Account Manager and I am very satisfied with the development of the relationship business with my customers. Of course, there are sometimes days when the highly competitive world of commerce can easily curse, but a well-executed project or a successful deal with a customer will always charge me with new energy. At KPCS, I greatly appreciate the Home Office option and the fact that if you have results, you also have the freedom to organize your work. Another factor that is very positive for me is the constant professional growth. Every project is different and without continuous education one would very quickly start to lose competition. That is why I greatly appreciate the space KPCS gives to its employees for education and I see it as a great benefit.
In my free time I devote my time to Crossfit, which I have been doing for the sixth year, so I fell in love with this relatively new sport by setting up my own gym where I practice regularly several times a week. Hunting is my other hobby. Becoming a hunter has been my dream since my childhood, but I fulfilled it only this year by successfully passing hunting tests. Staying in the wild and watching game is a great counterpart to the IT world and amazingly recharges the energy that is essential for a successful "business".
Monika Podlahova
Asistant CFO | Castle Lady
I came to KPCS on the recommendation of a colleague from a former company. I work as an assistant to the CFO, where I am responsible for the smooth running of the reception in addition to the financial agenda. I enjoy working with people and I enjoy working in a team where everyone is respected and able to meet each other. My goal is to be able to rely not only on my colleagues but also on my customers, and that everyone knows that their requests will always be met in time and carefully. I like to smile at people and I believe that a positive attitude can solve many things much easier.
Outside of work, I try to revitalize the Brtnice chateau with my partner. Its environment, beautiful surroundings and visitors, who like us, charge me with energy. I know that revitalization is due to the financial demands and                      Administrative procedures run long distances, but it's worth it. If you come, I will guide you personally.
Otherwise, I like the sun, the sea and summer peace. Getting on a plane in the winter and finding yourself in a sunny place in a few hours is a feeling I adore.
From an early age, I devoted myself to modern gymnastics, which I later did for many years at the highest level. From the time of this activity, I still had a very positive attitude towards the movement that constantly accompanies me.
From modern gymnastics is just a step to dance, which I like very much and sometimes I force my colleagues to do it.