Back up at least 3 copies of the data
Keep a backup in 2 repositories
Save 1 copy outside the organization
How to protect data from being encrypted by ransomware?
List of assets

Keep a list of assets that you will update that are important to your business from an IT perspective.

Be prepared

Prepare a procedure how to behave in case of a security incident, remind yourself thereof regularly.

Important data outside of the company

Keep important files or servers backed up outside of the company, outside the regular network you use daily. If necessary, the return will be easier.
Azure as external storage
Microsoft Azure offers a variety of services, Blob storage may easily serve as a ransomware protection. Advantages of using Azure Blob Storage:
Low price € 12 / TB / month, monthly invoicing, expenses under control
You do not pay for transferred data during backup (only during recovery)
3 copies of data within Azure, optionally geo-redundancy may be provided
Possibility to ensure retention policies for the next level of protection
Fast deployment, no VPN required, secure encrypted data transfer
Easy connection to Synology, Qnap, or Veeam backup
For you: guidelines for connecting Synology and Azure, how to back up and restore data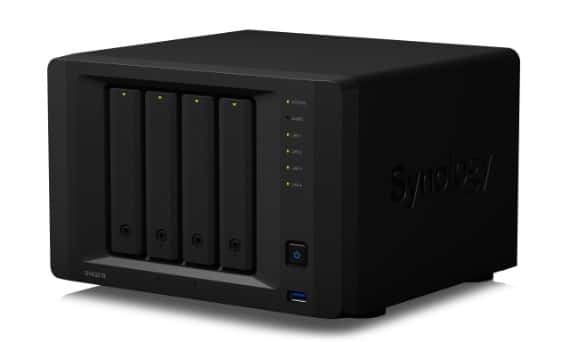 Select suitable Synology

Don't worry, it works with everyone, choose according to the performance or corresponding capacity to fit all your data.

Fill out the form below

After filling out the form, a new Azure subscription shall be ready for you, and you shall receive activation codes by e-mail, which you enter according to the instructions.

Make backups

Backup your data to your Synology, whether it concerns backups from servers or files from workstations, or use Synology as a regular file server. Your files will be protected.
Frequently asked questions
The most frequently used model is Synology DS918, which you can purchase at Alza or CZC from your technology vendor. Or you can choose a lower model DS418, also for 4 disks at Alza or CZC. Both of these storages have a capacity of 48TB when using RAID5 and 16TB disks. You won't make a mistake with any Synology of higher ranks, they differ primarily in the number and type of disks. If you are unsure what to do, contact your IT provider or we will be happy to advise you.
Depending on which disk storage you choose, 3.5 "disks are usually used. We recommend choosing disks that are designed for data storage, you may choose in the category at Alza or CZC. Choose the size according to the capacity you need to store, Synology has prepared a simple calculator for calculation of the resulting capacity. For example, when using 4TB disks and RAID5 data protection, you get a storage capacity of 12TB.
In the basic settings, the price is € 12 / TB / month of stored data without retention. According to the example above - 12TB disks, all data stored in Azure is priced at € 144 / month. If retention is set for a longer period, or higher geographical availability, additional fees are charged - we will be happy to tell you the exact prices on request.
We send you an invoice every month to the e-mail address provided in the registration. The amounts are charged in EUR, if you wish to be invoiced in CZK, please inform us, when invoicing we will convert to CZK at the currently valid exchange rate. It is also possible to subscribe to the credit from which it is subsequently drawn.
The first billing will take place only when you store the first data to the cloud. If you do not store any data or remove backups, no fees will be charged.
Yes, you can. Please contact us, we will set up access to a complete Microsoft Azure subscription with administrator access. This special offer only makes the part for backup available. We will be happy to provide you with further features on request.
Yes, they are. We use and provide Microsoft Azure to a wide range of customers in the EU and the USA, including our own solution ATOM ONE. If you would like to know more, please consult the Microsoft Security Center..
Yes, it is. The Microsoft data centers where Azure is operated are certified according to the strictest criteria. A list of all the certifications is available here. For this special offer, all the resources, i.e. data repositories, are located exclusively within the EU, unless you wish otherwise. Only the person who holds the access keys generated during registration has access to the stored data within Azure. Neither KPCS nor Microsoft is allowed to access the stored data.
As part of the Microsoft CSP program, we are able to provide complete features of Microsoft Azure, Microsoft 365, Office 365, Enterprise Mobility + Security (EMS), including CALs and on-premises Windows Server or SQL server licenses. You can find the complete offer, including partner cooperation, on the website of KPCS CSP or contact us for a more detailed discussion.
Do not hesitate to contact us. We have prepared first aid plans, tools for forensic investigation of cyber attacks and their impact. The first step is to completely disconnect all the systems from the network and prevent Internet communication. Before taking any action, make backups of the affected systems / files as they may be useful later in the recovery or investigation of a cyber incident.