Differences between WIN 7 and WIN 10, good reasons to upgrade
Blog
Support of Windows 7 terminated this year on 14 January after more than 10 years. Therefore, technical support and software updates from Windows Update are no longer available for this product to help protect your computer. Windows 7 is despite its age (released in 2009) still popular and was not pushed out of the imaginary first place even by the newer Windows 8 / 8.1. It was not until 2018, according to the estimates by the US Digital Analytics Program, that users began to use Windows 10 more, with the same source stating that Windows 7, despite the support terminated, is still used by up to 20% of users worldwide, which is, in my opinion, an alarming number and unnecessary risk, especially in an enterprise environment.
I understand that not every user or company wants / can invest in a new OS, or in a new HW, but it is necessary to mention a few facts:
Microsoft announced the end of support for Windows 7 well in advance, and, I would say, through quite a massive information campaign, so that users had enough time to prepare for the end of the support.
Users could upgrade the operating systems on their computers free of charge until 29 July 2016, or until the end of 2017 for disabled users. Let me make a small remark, the free upgrade still works, just use the Update Assistant or Media Creation Tool directly from Microsoft, however, although it works technically and the result is that you have W10 activated on your computer, it is a violation of the license conditions. According to Microsoft, the above-mentioned procedure is intended only for users who own a license for W10, i.e. they have purchased it and want to upgrade their OS. So, I don't recommend abusing the fact that you can still get W10 for free, because it can cause you a lot of problems, especially if you don't use your computer only for home purposes.

New HW is more powerful, faster, and generally cheaper than a few years ago. In other words, from my experience, I recommend combining an operating system upgrade with the purchase of a new computer with a W10 license, if at all possible.
Reasons to upgrade to W10
The first and, in my opinion, the most fundamental reason for upgrading W7 to W10 is the fact that Windows 7 is simply no longer supported, so their use is not secure and could backfire, because an outdated operating system is more vulnerable to viruses and malware. By using an unsupported OS, you are knowingly risking the security of your data. Upgrading to W10 gives you comprehensive built-in protection to help protect your data. In short, I would mention Secure boot, Device Guard, Microsoft Password and Windows Hello, and last but not least, it is ransomware protection and threat protection.
The "less fundamental" reasons not to hesitate to upgrade to W10 include:
Windows 10 is simply faster than W7, whether it's a startup (in some cases, a startup is faster than on Macbooks with macOS) or work.
Better and more secure browser
Edge is faster than Internet Explorer and even faster than Chrome and is less HW demanding, in other words it does not consume as much RAM as Chrome and uses up the laptop batteries demonstrably less while having at least the same browser speed.
Advanced snapshot creation tool
In W10, you can use the familiar Snipping Tool, or simply press the keyboard shortcut Windows + Shift + S to launch the Snip & Sketch tool, where you can create a screenshot. You have several options - save the whole desktop, regular selection or free selection (example below), you can edit, cut, etc.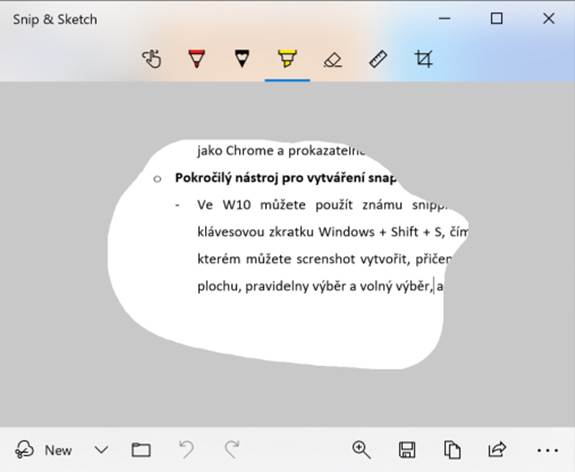 After not very successful "experiments" with the start menu in W8, Microsoft heard complaints and wishes from the users, and the popular start menu returned to W10 - of course with added value, which includes, among others, the possibility of customization.
Probably the most stable client operation system from MS
I acknowledge that this is a daring statement and of course, various bugs etc. do not avoid W10 either, but after many years of experience, both personal and at the customers, where the W10 operating system is used in huge environments, I can say that Windows 10 belongs to the most stable, or more precisely, they are probably the most stable client operating system ever.
If you have a device with a touch screen - this is taken into account in W10. When working you may use the tablet mode, where everything adapts to the touch control, and from my own experience I can say that it is surprisingly convenient, although I still prefer the mouse and keyboard.
Once you upgrade your operating system to W10, you get Microsoft to regularly upgrade your operating system to new builds without the hassle of reinstalling your existing OS, with the frequency of releasing new builds stabilizing in 2017 and coming out twice a year. Of course, this generates work for employees in IT departments. Each build needs to be thoroughly tested before deployment to production, and due to the frequency of builds issuance, this could be described as never-ending work, but with a suitable tool such as SCCM / MECM (Microsoft System Center Configuration Manager / Microsoft Endpoint Configuration Manager) and using W10 Servicing, it can be handled easily. And in my opinion, it's a smaller intervention than migrating from W7 to W10.